Have you ever feel tired of using your social media? Most people who feel bored with their social media want to use something else to keep their attention and keep them entertained. At that time, anonymous chat apps are the best available options to use and pass some time. If you want to make new friends not present in your WhatsApp or Facebook, you can use these chat apps to make new friends from all over the world. In this article, we will describe how these chat apps are helpful to you. And we will also discuss the top 10 best chat apps to use.
How Do Anonymous Chat Apps Help?
When you want to get to strangers quickly and make them your new friends from your smartphone, these chat apps help. These anonymous apps are free to use for both Android and iOS. There are easily findable random strangers from around the world, and you can start chatting with them. Most people use this app to flirt with strangers and date them. From some apps, you can share your images, audio, and allow video chats. This way, your friendship with strangers can get closer.
Why Use these Apps for Chatting?
Today is the world of digital products and technologies where it has been quicker to make new friends according to your interests. It is what these apps let you do. However, each app has its unique pros and cons, but they are guaranteed to give you strangers from the world. But what we suggest you do is to keep your data protected because some apps may store your private data and information that you have shared with strangers. 
Additionally, you can share messages in various ways with different persons. 
What Do You Expect From These Apps?
The apps you use to chat with random friends have to be freely available, and there has to be no payment required. Of course, you need these apps in Android and iOS devices, and they must have a simple yet attractive and best user interface. 
These apps must remove your boredom from your current social media apps. These apps have to give you new friends even if your accounts on these apps are new and fresh. These stranger chatting apps must let you connect with strangers and chat with them. Here are the best anonymous chat apps you can use.
Top 10 Best Anonymous Chat Apps For Android And iOS:
Looking for new and random friends is exciting because you can have a chance to meet new people and chat with them. Once you have ready your smartphone to install these apps, you are a click away from strangers. The following ten apps let you connect with strangers and start chatting with them.
Have you ever heard of this new yet popular chatting app, which you can use for Android and iOS? It allows you to connect with random people quickly and send them messages. It provides many features that you can use, and one of the best features is that you can chat with strangers about your desired and selected topics. It lets you choose a topic. You can also search for people with whom you can talk. You can also use photos, videos, and audio. You can also use other files. If you love chatting with strangers, you can use this app. 
Have you ever imagined using a secret chat app? If you are an Android user and want to use a secret chatting app, the PSST app allows you to chat with strangers without paying anything to the app. This app wants you to connect your Facebook account with it. It provides you one of the best features of anonymous chat apps is that you can block users you don't want to chat with them. It means if you don't enjoy with that person or if the person is irritating too much, you can quickly block the user and get rid of the chat.
This anonymous chat app is compatible with Android and iOS. C2M has developed this app using the best available technology and development kit. You can chat, flirt, and meet random people from all over the world. This app is free to use, lets you find people, flirt with them, and chat with them. You can also plan a date with your new friends. One of the best features this app offers is its shuffle option. This option makes you know who is offline and who is online. Therefore, you can understand who is available to chat. You can share your secrets gossips, and confessions.
If you want to use one of the best anonymous chat apps are free for Android and iOS users, you can use this app. There are various chat rooms to join your desired chat room, and these rooms let you chat with your stranger friends. 
This application gives an option to start your online dating. It includes funny pics, photos, videos, stickers, and strangers. If you want to express yourself with different badges, like to use an age filter, you can find friends that are a similar age to you.
If you want to use a group video chat app. RubySpark Labs Ltd for Android and iOS users. There is no more battery consumption because this app is a battery saver app. You can create new chat rooms before starting to chat with strangers from this app. Once you create chat rooms, this app lets you share the links with your friends. Thus, your friends can also join your rooms through this chatting app.
MeetMe is an anonymous app to provide you anonymously talks with random people. You can quickly start chatting with your old friend and new friends too. You can begin talking with nearby friends and meet them without even signing or logging in. After having all these features, you can chat with strangers without sharing your identity. You can meet, chat, talk, and share your photos with them.
Have you ever thought to use a new and popular random conversation app for your Android and iOS devices? This one is the best app to let you start chatting with your friends anonymously. There is no time limit to chat with your friends, and this app lets chat for free. There is also a video chat option that you can use to see your friend through video chat and know more about each other. You can use a gender filter, and it lets you start chatting with your desired gender and person. It has several best features, and one of them is NOTIFICATIONS. If someone has sent you a message, photo, audio, video, and anything else, you will get notifications.
Do you think it is a fake app? This app is a direct message app that you can use on both Android and iOS devices. It means from your smartphone, you can know unknown persons from all over the world. This app gives you the best and unique feature that is to control the conversation for both sides. It helps you alter the details of each conversation. It makes you able to send and receive fake media messages. It means you can prove you are busy with your friends or that stranger person. Apart from this, it lets you edit your sent, delivered, read, and other messages you or your friend have used.
This application is an online community. It is a place where you can quickly share your thoughts, advice, and anything you want. You can directly chat with the other person who is a member of this whisper community. This application is freely available to download from Play Store and App Store. It means both users of Android smartphones and Apple smartphones can connect with random people. This app is undoubtedly an addictive and cool chatting app to connect with new people.
It is one of the best anonymous chat apps that you can use for Android and iOS users. It allows you to search for millions of new and random people and start chatting with them. You can get to know about nearby new and stranger people from all over the world. If you want to flirt with random people, it is the best app to do it. You can play games, find new friends, and be social with new friends. There are many features that this app offers, and one of them is its filter. You can filter your stranger friends by age, gender, location, sexual preferences, and other preferences. It lets you customize your messages with stickers, apps, themes, and emojis.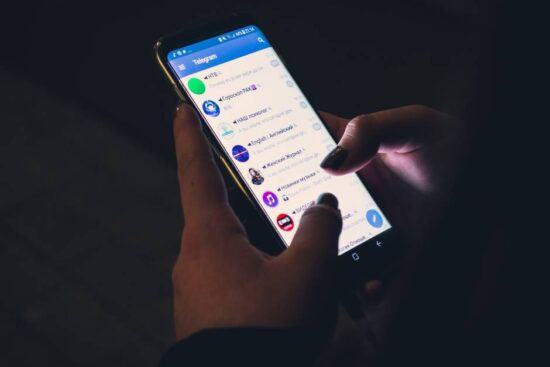 Wrapping Up:
Did you start using one of these best anonymous chat apps? We have discussed random chat apps and the top 10 best chatting apps to connect with random people. If you have used one of these apps, you can let us know by sharing your experiences.