Do you want to learn the Indian-style spinach dal recipe? If you have ever tasted spinach at celebrations, restaurants, or relatives' homes, you might have been amazed by the delicious taste of Dal Palak. So, in this Spinach Dal Recipe Guide, we will teach you Dal Palak Recipe. So, you can learn to make this delicious and healthy dish at your home like a chef. Of course, it is a healthy recipe because of healthy and tasty ingredients like palak, lentils, spices, and herbs. In short, you can say people use Spinach to consume healthy lentils.
Spinach: A Way To Consume Lentils:
Without any doubt, we can say lentils are protein-rich. They're super healthy that people of any age group can consume. So, most people who enjoy lentils want to make some changes in the ways they prepare Dal. That's why one of the best ways to make healthy Lentils is by adding spinach to the recipe. Having a large and hot bowl of Dal Palak with rice is just exciting for kids and everyone. You can consume dal palak with Roti, Bhakhri, and Rice. This recipe includes light spices and Spinach that enhance the flavor.
Things To Know About Dal Palak Recipe:
This recipe provides you with super healthy and delicious Dal with low calories, fiber, and protein. You can prepare this dal in your stovetop cooker or saucepot/instant pot. The spinach dal can be made with Toor Dal and spinach.

We also add some spices and herbs. One thing you should understand is that everyone will cook the foods in unique ways. And they prepare a meal. So, you can try some changes to the recipes and see what happens. However, before that, please consider this recipe thoroughly. And try making it in the way that we plotted here.

You may be using a pressure cooker to cook lentils, spices, tomatoes, and other ingredients while making Dal Palak. However, making

Dal Palak Recipe

that way doesn't turn the best taste. The reason is it overcooks your Spinach. Of course, Palak is one of the leafy greens that don't need much time to cook.

If you use a few ingredients instead of adding many Ingredients, the taste of Dal Palak is better. Or else, you may not get the buttery flavor of palak. So, keep minimal ingredients.

Either you can make use of tomatoes for Dal Palak Recipe, or you can skip it.
Why Avoid Tomatoes With Dal Palak Recipe?
Many people don't want to cook tomatoes and Palak together. The reason is they're highly oxalate. It means that when you don't prepare a high oxalate diet, you can skip tomatoes.
Many chefs and celebrities consume tomatoes moderately at their homes when using Spinach. Of course, we don't avoid tomatoes entirely every time. Still, we suggest you use moderate tomatoes in Palak Recipes. You can also use tomatoes with Dal Palak, Sambhar, Palak Paneer, and other dishes.
Remember that if you want to use tomatoes, you need to reduce the quantity of palak. It means you must use these both in a manner that they don't increase the amount of oxalate in the diet. However, the recipe that we have included here is the best for people who love making quick dishes with sautéing onions and other ingredients.
Moreover:
Even if you are using tomatoes, you can use a stovetop cooker or use your instant pot. However, the saucepot is also a great option. It means whether you use tomatoes or not, you can use these pots and cook Dal Palak. So, in this Dal Palak Recipe guide, we have included the shortest and the best way to make Dal Palak at home.
How Can You Make Dal Palak Without Tomatoes?
You require the following ingredients handy to make Dal Palak Without Tomatoes.
Take a half-cup of Dal (Toor dal only or take moong dal too).

Chopped tomatoes (optional).

Two cups of chopped Spinach.

Take vinegar, salt, lemon, and lemon juice.

Take red chilies and green chilies.

Chop ginger and garlic (one teaspoon).

Take cumin, a pinch of Hing, and Turmeric.

Ghee or Olive Oil.
Preparation Steps:
In a pressure cooker, rinse a half cup of lentil a few times till you see the clear water. So, it can remove everything undesirable. We have used Toor Dal and Moong Dal equally. You can also prefer only one lentil to make the signature taste of that dal. If you want to add tomatoes, chop the equal amount and add it.

Use one and one-fourth cups of water and add to the cooker. You have to pressure cook your ingredients for two whistles at medium flame. You must be adding water if you want to use a pot. It vaporizes water quickly.

At the same time, clean your Spinach and rinse well twice or thrice. You can also use vinegar and salt over its leaves. Let it rest for five to ten minutes and rinse again in a large pot a few times. It will remove all bugs and residues.

Transfer it to a colander and chop after the water has drained.

Chop one to two green chilies and use garlic ginger one teaspoon. You require the same proportion of garlic and ginger.

Let the pressure release naturally and smash cooked lentils slightly. If you love the same texture, don't smash it. Check if it's soft and cooked well.
Recipe Steps:
Take one Kadai or Pan and pour two tablespoons of Ghee. You can use Olive Oil if you want to make a vegan

Dal Palak Recipe

. Add cumin seeds and two red chilies (Dried but optional). You can chop it into two-three pieces.

Add ginger and garlic that you have chopped, and add two green chilies. Of course, you don't need red chili powder in Dal Palak. So, use green chilies for the heat. Let it cook for a minute and add a pinch of Hing.

Mix two cups of chopped spinach and mix gently. Let it cook for three to four minutes. It cooks spinach.

Then, add your cooked and mashed dal, a pinch of turmeric powder, and salt to taste. Remember that Spinach is somewhat salty. So, be careful while adding salt.

Add water according to the consistency you want. You don't have to cook it for longer. Cook it until you think the spinach is ready. Some chefs also use amchur powder at this step. However, we don't use it. The lemon juice is better and healthier.

Once you think the consistency is okay, turn off the flame and let the cooked Dal Palak slightly. Add some lemon juice to it. We suggest you avoid adding lemon when Dal is boiling. Let it cool down slightly, and then add lemon juice.

You Dal Palak is ready to serve with rice, roti, or Bhakhri.
Tips From Master Chef:
You must use Toor dal as the main ingredients for dal palak. It is split pigeon peas. Add a little moong dal that is split moong beans. However, you can prefer other healthy lentils too.

We have only suggested adding red chilies and cumins as whole spices. You can add mustard seeds if you want to add them.

You have to avoid ground spaces. However, if you want to add something ground, use Garam Masala with the turmeric powder. Still, we say that

Dal Palak Recipe

does not need it.

You can use desi ghee and or butter to enhance the flavor. Or use any of them. The olive oil or any available oil is better if you're vegan.

You need to understand how to prepare palak for any palak recipe. Take a large pot of water and add each leaf separately. Also, check for bugs and infestations. Let it be in the water for three to five minutes and rinse well. We use vinegar and salt over the palak and rinse after sometimes.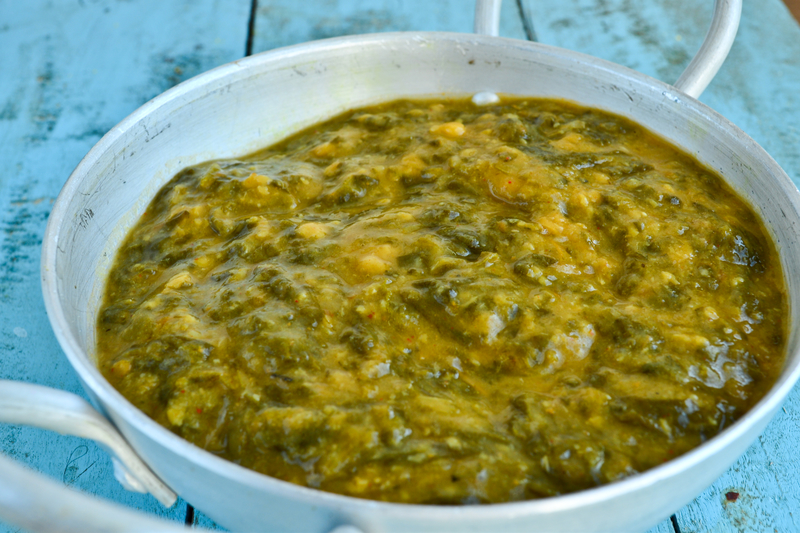 Frequently Asked Questions:
Why Do You Need Moong Dal?
Adding moong dal will enhance the taste of dal palak. It means you can add a little moong dal instead of adding it in the same proportion.
What To Do If You Don't Have Pressure Cooker?
When you don't have a pressure cooker, you don't have to worry. You can still cook your Dal Palak. You will soak dal for at least 15 minutes to one hour. It'll thicken and soften. Hence, it will quicken the process of cooking.
Can You Try Dal Palak With Different Lentils?
Yes, you can try the dal palak recipe with lentils like moong dal, Toor dal, and chana dal. You can also try mixing these lentils.
Wrapped Up:
Did you find this Dal Palak Recipe guide helpful? Have you tried to make this Indian-style spinach dal recipe at your home? What do you think about its taste? You can try both (with tomatoes and without tomatoes) and let us know which was the best recipe for you when it comes to spinach lentils. You can share your reviews with readers.